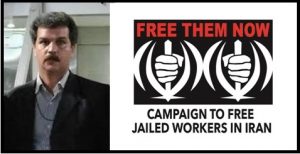 Reza Shahabi's situation is alarming
Reza Shahabi should be released immediately,
 The summons must be stopped immediately
According to a report released the Union of Workers of Tehran and Suburbs United Bus Company in the meetings held on December 13 with Reza Shahabi's family with him in prison, the left half of the face has fallen out and under his eyes has a special sinking.  According to Reza Shahabi, his doctor has said he had a mild stroke. According to another report, Ms. Robabeh Rezaie, wife of Reza Shahabi, on Saturday, December 16th, three days after a mild stroke, Once again, the problem has worsened, an emergency from prison was transferred to Imam Khomeini Hospital.
But despite these worrying news, Islamic criminals have not hospitalized Reza Shahabi. Specialist physician of Reza Shahabi had previously stated that his physical condition was bad and should not be kept in jail.
Reza was repeatedly suffering from blood pressure and nosebleeds in prison, And despite all this, Islamic criminals kept him in jail and did not do anything for him. He is still in detention after a stroke, Reza Shahabi's situation is worrying
We strongly and broadly protest against this criminal act of the Islamic government.
Reza Shahabi is a prominent figure in labor and a member of the vahed (Bus Company) syndicate.
He spent many years in jail for his charges of security allegations under the title "Disrupting National Security and Order. The date of his release was recorded on the eight of January. Meanwhile, Reza Shahabi has completed his 5-year sentence on September 16, 2015.
And with the pressure of Tehran's prosecutor's office, and on the pretext that he had not been approved for three months, he introduced himself to Rajaishahr prison for three months of imprisonment.
But after his arrival in prison, the execution of prison sentences to Reza Shahabi was announced that 968 days had not been approved from medical leave and had been absent, and should be in prison for the equivalent of absenteeism.
In a protest against the verdict, he had fifty days of hunger strike, and a global campaign was launched in support of him. Under the pressure of the protests, they promised him to file his case. Despite all this, Reza Shahabi has been kept in custody.
The syndicate of the vahed (bus company), while announcing the news, called for his immediate and unconditional release, and has considered the security and prosecutor's offices in Tehran and the prison authorities responsible for his life.
Life of Reza Shahabi is in danger,
We expect all labor organizations and humanitarian organizations around the world to condemn the Islamic regime for the obvious crime against Reza Shahabi and all political prisoners in prison.
And demand the immediate and unconditional release of Reza Shahabi and his treatment.
We are waiting for your actions
Campaign to Free Jailed Workers  in Iran
Shahla.daneshfar2@gmail.com
December 19, 2017