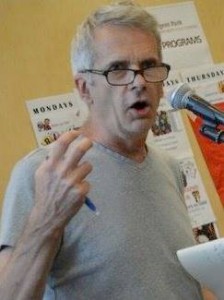 1May 2017
The hunger strike in that teacher activist, Esmail Abdi, is taking up in Evin Prison shines a light on the brutal repression and savage prison sentences being imposed on workers in Iran for simply seeking to organize to win their rights.
On the May Day, the Ontario Coalition Against Poverty (OCAP) expresses its full support for those in Iran who continue, at such terrible cost, to struggle for justice for working people.  The Government of Iran is to be condemned for its denial of workers' rights and its readiness to treat the attempt to exercise those rights as criminal activity.
Freedom for all jailed worker activists and victory to the Iranian working class.
John Clarke, OCAP Organizer
***
Sent to Free Them Now (campaign to free jailed workers in Iran)
Shahla.daneshfar2@gmail.com
http://free-them-now.com