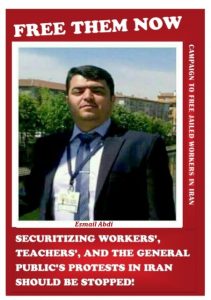 Esmail Abdi, who had been on leave on bail, was arrested on July 27, 2017. Esmail Abdi has been in prison since June 2016 and has been sentenced to six years. From the 10th of May this year, he went on hunger strike to protest the issuance of security sentences for labor activists, teachers and all social activists and non-compliance with the rights of detainees.
He was finally released on bail on June 28, 2017, under the pressure of massive protests in support of his demands. It was supposed to continue this leave, which he was suddenly arrested on July 27, 2017. Esmail Abdi should be released immediately.
A major issue in the protests of teachers, workers and social activists over the past two years has been the protest against Securitizing Workers', Teachers', and the General Public's Protests in Iran. All charges brought against imprisoned worker and teacher activists must be dropped.
This campaign launched by Esmail  Abdi and Jafar Azimzadeh on May 10, 2016. For example there is currently a protest in support of Mohsen Omrani, a  jailed teacher activist in Bushehr, which has already been signed by two thousand teachers and social activists. Mohsen Omrani has sentences to one year prison. Join and support this campaign. Esmail  Abdi and Mohsen Omrani, should be released immediately. All political prisoners must be released.
Campaign to Free Jailed Workers in Iran (Free Them Now)
July 27, 2017
Shahla Daneshfar, Shahla.daneshfar2@gmail.com
http://free-them-now.com