Ju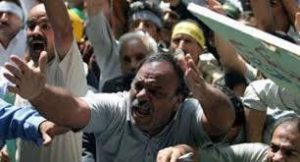 ly 29, 2017 ,
According the news of the Haft Tapeh Sugar Cane Workers Union, 10 arrested workers of this factory; named Rostam and Hamid Abdullah Zadeh, Ahmad and Jacob Alkasir, Asel Samaien, Ebrahim Zahir, Behzad Nazari, Sabah Savari and Ahmad Moradi were released on bail, on July29, 2017. Five other detainees; named Rahim Chenaneh, Kazem Chenani, Yaser Hamidi, Amad Moradi, and Yaber Hovizeh, who were arrested at work, were released already  on bail on July26, 2017.
On July 29, While detained workers were tried in the Islamic Republic's court in "Shush" , at the same time, a group of the Haft Tapeh sugar cane workers gathered in front of the court and supported their arrested fellow workers.
The protests of the Haft Tapeh workers continue.
The Haft Tapeh sugar cane complex workers demand the immediate payment of their three months unpaid wages, the payment of a 4% contribution to the retirement of all retired workers, the layoffs to be stopped  and the militarization of  their work place to be ended.
The Haft Tapeh workers are demanding full payment of wages and benefit arrears, and the recognition of the Haft Tapeh workers union as the workers' legal representative.
International Union of Food, Agricultural, Hotel, Restaurant, Catering, Tobacco and Allied Workers' Association (IUF), has issued a petition in support of the demands and struggles of the workers of the Haft Tapeh sugar cane . Labor Start, has also published a petition in support of the demands and struggles of the Haft Tapeh sugar cane workers.
Free Them Now asks you to:
1- continue supporting the struggles and demands of the Haft Tapeh sugar cane workers
2-Condemn the Islamic Republic of Iran for arresting workers and exerting pressure and threats on protesting workers who claim their right.
3- Call for immediate release of Mr Esmail Abdi, Mr Mohsen Omrani, (two jailed teacher activists), Ms Atena Daemi a children and women's rights activist and an activist against capital punishment, and hundreds of other political activists.
4- We appreciate your continued support for workers and teachers in Iran and we ask you to stress on the following demands
-All charges brought against imprisoned workers and teachers activists to be dropped completely.
-Securitizing Workers', Teachers', and the General Public's Protests in Iran should be stopped.
-Trials of workers and all political activists must be stopped and any kind of fabrication of charges against them must be cancelled
-Trials of workers and all political activists must be stopped and any kind of fabrication of charges against them must be cancelled
Free Them Now! Campaign to Free Jailed Workers in Iran
Coordinator: shahla.Daneshfar2@gmail.com
http://free-them-now.com
https://www.iufcampaigns.org/campaigns/show_campaign.cgi?c=1084