The exciting new of the 1st of May, was that, the precious and well known workers activist Behnam Ebrah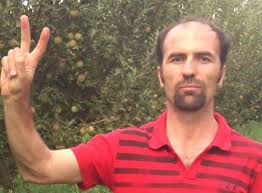 im Zadeh, who is also a children right and human rights activist, was released from prison after seven years,  while being accompanied by a several members of Iranian Free Workers Union. We congratulate his freedom to everyone and especially His family.
Our thanks and appreciations go to all of those who participated in the campaign to Behnam's freedom, and also the campaign against the securitisation of the workers struggle, teachers and all the opposing people who supported these campaigns and put efforts to be Behnam's voice outside prison and supported his enquiries to have a decent life.
Although Behnam has been released from prison, his judicial case is yet to be closed. We demand that his case, that was put forward as a violation to the national security, and he's spent years in prison for it, to be closed immediately. Behnam Ibrahim Zadeh,  had been under pressure and torture for years in prison and this has put his health in a miserable condition. Therefore, we demand that he should undertake free and appropriate medical treatments.
The campaign for the freedom of imprisoned workers is now dealing with two new urgent cases. The first one is Ismaeil Abdi's case, one of the leaders of the teachers struggle who is imprisoned for his activities, and has been on hunger strike since the 30th of April, demanding the abolition of any security charges on him and other prisoners. The second one is Atena Daemi, the children and women right, and anti execution activist. She's gone on hunger strike in order to oppose the convictions of herself and her two sisters Haniye and Ensiye who have been arrested by the Iranian authorities to put more pressure on her.
We urge all the human rights organisations and labour unions to join and supports us in our campaign for the freedom of Ismaeil and Atena and all other political prisoners.
Chat Conversation End
Campaign to Free Jailed workers In Iran
Free Them Now
Shahla.daneshfar2@gmail.com
http://free-them-now.com
May 1 , 2017